Posted by : Abdalaziz al-shammari
Dec 23, 2011
"Masked HERO" (M・HERO Masukudo Hīrō) is a "HERO" sub-archetype mostly consisting of monsters used by Jaden Yuki in the Yu-Gi-Oh! GX manga.
They are currently the only monsters shown to performTransformation Summons and Double Attacks.
Rather than Fusion Summoning like most Fusion Monsters do, they use cards like "Mask Change" to Special Summon themselves from the Extra Deck.
One of them
Masked HERO Acid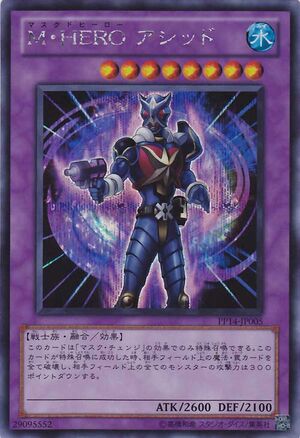 Must be Special Summoned with "Mask Change", and cannot be Special Summoned by other ways. When this card is Special Summoned: Destroy all Spell & Trap Cards your opponent controls, and all face-up monsters your opponent currently controls lose 300ATK.
COMBO
Summon Elemental HERO Absolute Zero first then use Mask Change to wipe the field clean.
The best time to summon Acid with Mask Change is during your opponent's end phase. This way your opponent won't be able to respond with the cards he just set this turn.